Our Staff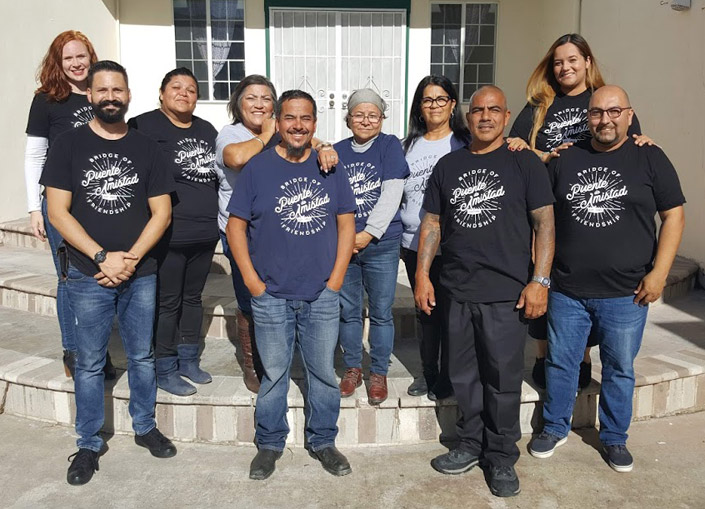 As the groups coming to Puente de Amistad grow each year, so does our team! Over the past few years, we have added two new missionary families, multiple new translators and one more kitchen-housekeeping staff member. We continue to ask God for His direction and guidance as we develop and grow our team for the Glory of spreading the Gospel of Jesus Christ here in Tijuana, Mexico!
Travis and Heather Hunsaker have served as full-time missionaries at Puente de Amistad since 2016. In January 2019 they were appointed as the directors of Puente de Amistad. They have 2 children, Wesley and Mya, who enjoy meeting new people and being active in ministry. The Hunsaker's favorite part of ministering in Tijuana is building homes for those in need. A permanent, good gift of a home is a wonderful testimony to how mighty the Lord Jesus Christ is and how He cares for the least in the kingdom of God.
You can contact the Hunsakers's at hunsakers@openbible.org.
Support Missionaries Travis and Heather Hunsaker
Justus and Michaela joined the Puente de Amistad team as full-time missionaries in March 2023. Their experience with and love for Puente de Amistad runs deep, from going on trips with their church as youth leaders, to coming as students with the School of Global Leadership, to volunteering for three months for a summer. The Morgan's love building relationships within the community through the various ministries they bring the teams to visit. They love helping those that come to serve gain a heart for missions!
You can contact the Morgan's at morgans@openbible.org.
Support Missionaries Justus and Michaela Morgan
Amalia is our Head Chef and Housekeeper at Puente de Amistad. She enjoys serving and taking care of the people who come stay at the Puente. Amalia was born in Mexico City and came to Tijuana in 1999. In 2000, she became part of the staff at Puente de Amistad. Her family includes her husband Rafael, her son Josue, her daughters Ivette and Paola. and her 5 grandchildren.
Marcial is in charge of the House Builds and maintenance at the Puente de Amistad base. He is bilingual and enjoys assisting teams in doing ministry. Marcial was born in a village in the Oaxaca State of Mexico. He came to Tijuana in 1990. In 2001, he began helping part-time at Puente de Amistad and has since become a full-time member of the staff. His family includes his wife Martha and his sons Fernando and Osiris.
Armando has been working with Puente de Amistad on and off for the past six years, but in 2016 he was officially added to our staff. Armando is a man of many talents, he helps at the job site, translates while doing ministry, and leads the way in feeding the homeless at the Mexican/American Border. For those of you who have met Armando, you know his heart is as big as the sea, and he will drop everything to further the kingdom of God. You may also get the chance to meet his wonderful wife, Amalia, and son AJ. They usually join him in ministering on the weekends.
Fernando (or as we know him "Fernie") has been with Puente de Amistad since 2017. Fernie is bilingual and a jack-of-all trades. He helps at the job sites and participates in ministry with our teams. For those of you who have had the honor of meeting him, he has the most contagious enthusiasm of any person ever. The love of Jesus just pours out of him. Due to the growth of Puente de Amistad, Fernie was an answer to our prayers for more assistance with the teams.